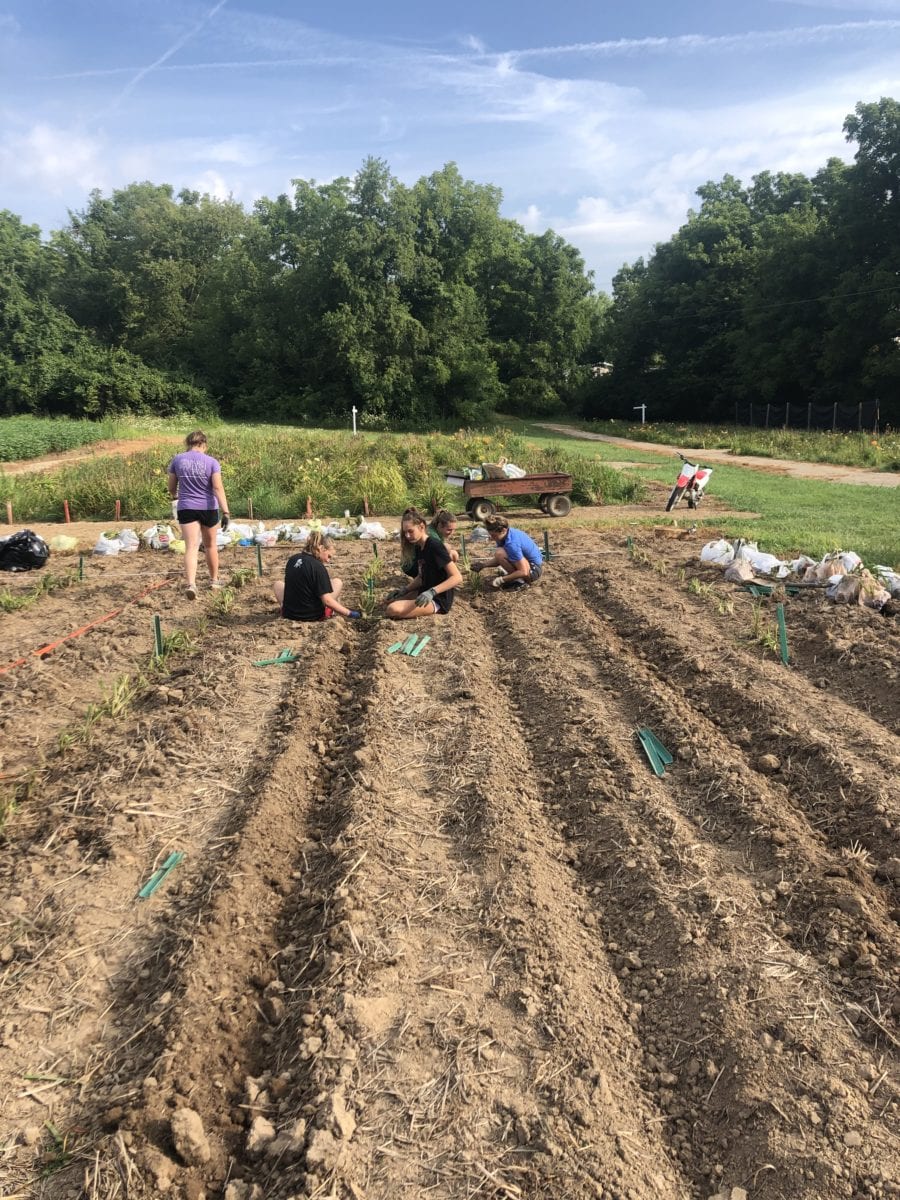 1.12.2021 Valley of the Daylilies Announcement
As many of you know, Dan and Jackie Bachman had closed Valley Of The Daylilies as of last fall. It was a good ride, but it was time. We could no longer keep up with the tremendous hard work duties associated with our operation.  We would like to extend a heartfelt "Thank You" to all of our customers throughout the years.  A going out of business sale was a huge success but we owe special thanks to two groups who are carrying on with new daylily programs in the area.
Darby Flower Fields, located in Orient, Ohio, just south of Columbus acquired hundreds of our seedling clumps and many after market cultivars. Darby Flower Fields is a relatively new business operated by Becky Moehl and her mother, Judy Roush. Becky's daughter Kendall is also an active partner in the business. They have years of experience in the agricultural field and the farm grows many varieties of hosta as well as over 850 varieties of daylilies. Their web site is www.darbyflowerfields.com . Contact them for further info.
Our daylily breeding program was obtained by Robert Britton, who with his daughter Laura, run Good Life Farm. Good Life Farm produces naturally grown vegetables and chicken, pork and beef for both farmer's market and purchase through their Good Life Farm Club (located near Waynesville, OH). Robert has been hybridizing daylilies for several years and has some outstanding seedlings. He now has all Bachman select seedlings and 2020 Fall introductions which will be assimilated into his program. Robert has the same emphasis of plant habit as Dan so look for wonderful new daylilies from Good Life Farm. The website is www.goodlifefamilyfarm.com/daylilies  and like on facebook Good Life Farm.
Dan Bachman
1850 S. State Route 123
Lebanon, OH  45036
http://www.valleyofthedaylilies.com
(513-739-3322
4.2020
We have something new to offer this year at Darby Creek Fields and flowers! Please welcome our new flowers of tropical Canna Lilies, a large colorful low maintenance flower used as some of the best decoration in your garden during the summer months. Canna Lilies can grow upwards of six feet with beautiful green, dark green, and bronze foliage with bright eccentric flowers. Perfect for the backdrop or in front display, we are offering 7 different varieties of beautiful Canna Lilies.
For front row action of your Canna Lilies, you can choose from the small crimson self-cleaning Red Futurity, the bright tangerine orange Tangelo Canna Lily, or maybe a soft yellow to mellow it all out with a Yellow Futurity. Red Futurity, Tangelo, and Yellow Futurity all are smaller but pack a big punch!
If you need some larger but not too tall Canna Lilies, Golden Lucifer, Yellow King Humbert and Cleopatra all are medium varieties. Golden Lucifer is a bright yellow plant with mild red speckles down the petals. Yellow King Humbert is a buttery yellow Canna with orange splashes down the middle. Cleopatra Canna Lilly is a magical Red and yellow flower with sometimes green and sometimes a bright bronze foliage. Cleopatra is very beautiful because the bloom is the same ratio of yellow so unique!
The final beautiful Canna Lily we will be selling this year is the Musifolia. Now this Lily is a giant, it can grow 6 feet tall or more! Musifolia is beautiful, with bronze foliage reaching up to the sun. A perfect backdrop for the early part of the summer, the later part will have pretty red blooms that are great for attracting and feeding hummingbirds!
Please keep in mind here in Ohio Canna lilies don't much like the cold so we suggest keeping them in pots to bring them in a warmer place for the winter or digging them up to keep them for the following year.  Canna Lilies love the sun and lots of water. In fact, you can even keep these lilies in pots with just water! Sometimes they are great in the rims of ponds to help wildlife thrive for shelter and food.
Author~ Michaela  Kopczewski